I bought the Orange PPC412HP8 because it comes with four Celestion G12-K100 Speakers.
Orange PPC412HP8 Features :
Four Celestion G12K-100 8 Ohm 12" speakers
13 Ply High Density 18 mm Birch Plywood
8 Ohm 400 Watts (mono), 16 Ohm 200 Watts (stereo)
Input Type: 1/4 inch jack
Dimensions (WxHxD): 78 x 74 x 38 cm
Weight (Kg): 50
Kerry King from Slayer is one of the artistes who are using these speakers.
His Marshall cabinets are loaded with Celestion G12-K100 and Vintage30 speakers.
Another great feature of the Orange PPC412HP8 :
when it is used in "stereo mode" , each pair of the speakers are splitted "diagonally".
Common feature among all the Orange amp cabinets is the "Skid Design Feet" (wooden slats/skids).
In another word, there are NO casters on the bottom of Orange cabinet.
Abstracted from Orange Amplification official website :
"...Our unique 'skid' design feet help to acoustically couple our cabinets to the stage
to provide a tighter bass response and full range definition."
Today, I'm going to modifiy my Orange PPC412HP8 cabinet with Mesa/Boogie Track-Lock™ Removable Casters
The basic tools that you will need :
Here are the Mesa/Boogie Track-Lock™ Removable Casters.
The Track-Lock™ system allows you to remove the casters
by pushing a little spring button that allows the wheel to slide out/in easily of the track.
They are the best cabinet casters in this world.
I'm going to follow those caster orientations from my Mesa/Boogie cabinet.
Once you had decided the position, all you have to do is to drill through two little holes
of the cabinet bottom and screw those screws accordingly in.
The most difficult part of this modification -
You will need to SAW that two wooden skids by using a handsaw and make them shorten,
if you are going to follow exactly the caster position of the Mesa/Boogie cabinet.
Press the spring button down and slide the caster in.
Done ! The modification was completed.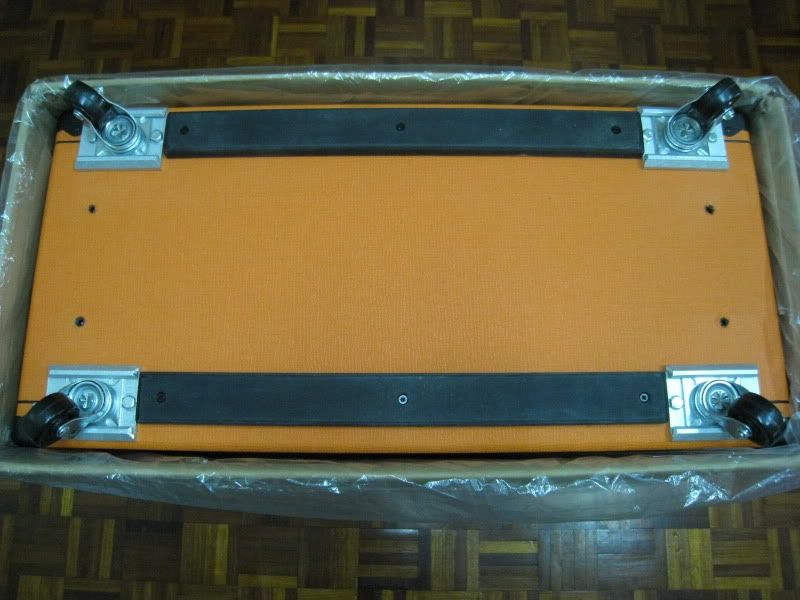 Nice casters. I can move the cabinet easily.
My Orange PPC412HP8 cabinet with Mesa/Boogie Track-Lock™ Removable Casters.
Original made in England.
If you are in the US, those Orange cabinets are actually made in US instead of England.
Final picture with my Orange Tiny Terror(first batch of Korean made).