My another Caparison guitar - Angelus HGS GM (Pro White)
The finish surface is roughness.
GM
stands for "Gotoh Machine Heads".
HGS
(Heavy Gauge Strings) design is good for low tuning and the octave intonation adjustment.
The Pro Finish really enhances the mid-low range tonal characteristics.
I tuned my Angelus to Drop-B tuning (B-F#-B-E-G#-C#) with Dunlop "Heavy Core" (Heaviest) Strings
Description from official website

HGS stands for Heavy Gauge Strings.
The model itself has the heavy gauge strings for tuning down, which is a popular requirement in the Death Metal music scene, for example.
The bridge position is mounted 3mm further along than regularly seen on other guitars; this is to help when adjusting heavy gauge strings to an octave deeper in pitch.
In addition, the pickup position is changed as the bridge moved.
This means that players, never again need to change their playing technique because the neck length is always the same.

FD Finish
This is Caparison's original finish which helps make the distinctive and renowned mid-low range tonal characteristics possible.
■SPECS
BODY SHAPE : Angelus
BODY TOP : Maple
BODY BACK : Mahogany
NECK : Mahogany, Caparison-Grip, Set-Neck Joint
FINGERBOARD : Ebony, 24F(Jumbo), Luminous Side Dots Inlays
SCALE : 628mm (24 3/4")
NUT WIDTH : 42mm
NUT : Graph Tech Trem-Nut
PICKUPS : Caparison PH-F(Neck), Caparison PH-R(Bridge)
CONTROLS : Neck PU Vol(CTS), Bridge PU Vol(CTS), 3-Way Toggle Switch
TUNERS : GOTOH SG301-01 H.A.P
BRIDGE/TAILPIECE : GOTOH GE103 B-T / GOTOH GE101 Z-T
HARDWARE : Cosmo Black
I replaced the stock pickups (Caparion PH-F and PH-R) by EMG active pickups.
EMG Zakk Wylde signature pickups set - EMG-85 and EMG-81 (solderless connection)
Original wiring from Caparison. "Cheap plastic" 3-way level style pickups selector
and two independent volume pots for each pickups. Metal players don't need tone pot, \m/
Can you see the neck tenon ?
The plug need to be cut-off first for letting the coax cable pass through the guitar body.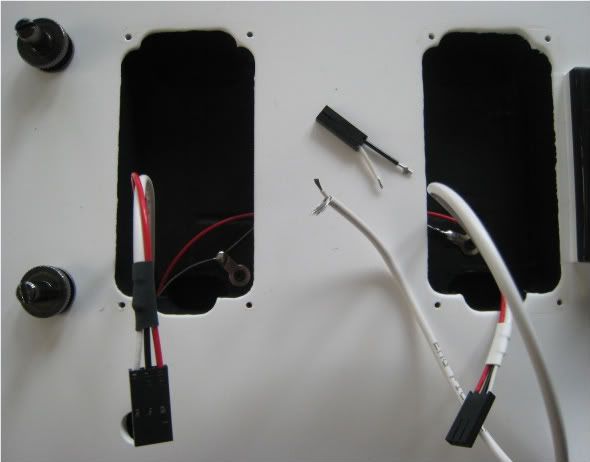 The volume pots are solderless, the connections betwen EMG "motherboard"
and 3-way selector are solderless, even the output jack is solderless.
Fianally Done !
I like the Caparison pickups sound, but I love EMG pickups.
~Family pictures~
Short demo of my Angelus